Get 25% ANY Tree Service. Satisfaction Guaranteed.  Call TODAY for a FREE Tree Care Quote.
Tree Care in Brunswick County
Family Owned Tree Service With Over 25 Years
Experienced Crew Is Licensed, Bonded and Insured
Exceptional Service to All Residential and Commercial Clients
FOR 24/7 EMERGENCY SERVICE. CALL US IMMEDIATELY.
Certified Wilmington Tree Service Experts
Professional Tree Service is a family-owned tree service with over 25-years of experience caring for the natural landscape of communities in Wilmington & Brunswick County. Our goal is to provide exceptional tree service to all residential and commercial clients looking to maintain or improve the natural surroundings of their homes and businesses.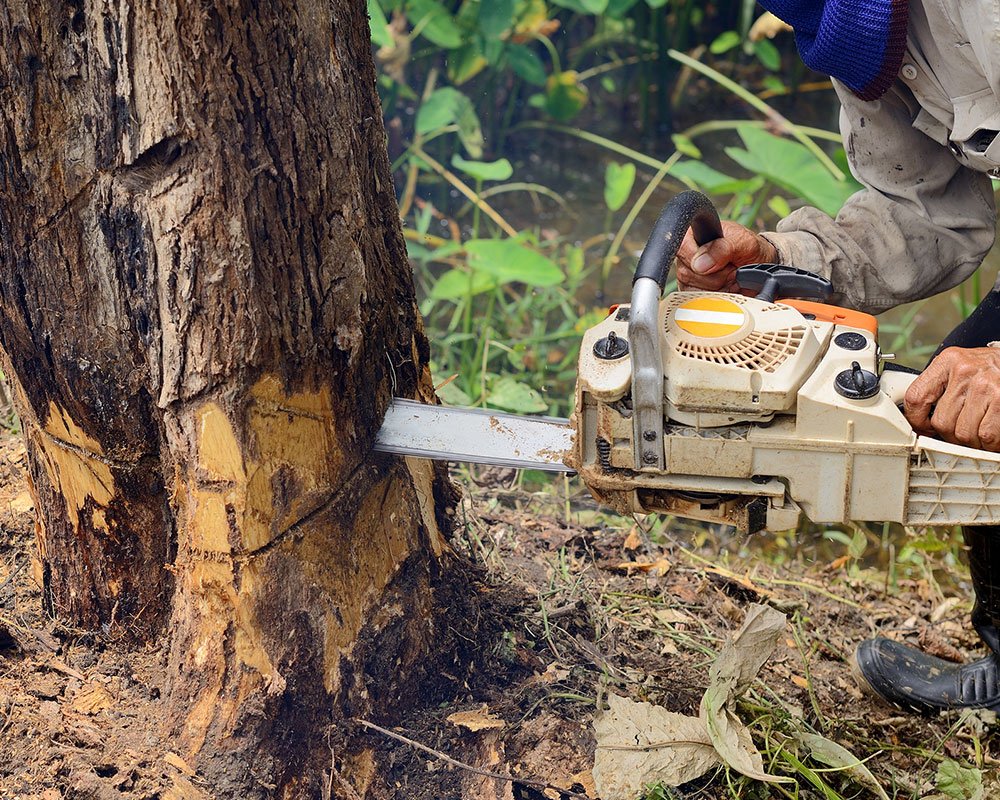 Real Reviews From Real Customers
Reliable and fast on time
Professional Tree Service crew made my family happy. The service was prompt and the job was completed faster than I imagined.
Nancy P.
– Wilmington, NC
Great Service
Excellent and professional people. They were a pleasure to have around. Charlie was always keeping me updated as to their progress.
Erica M.
– Wilmington, NC
Very Professional
They had the tree removed the same day the tree fell. They did such a good job, we hired them to remove other dead trees.
Gary K.
– Wilmington, NC
Tree Service Wilmington specializes in tree service of all types of trees. Call Us Today For Our 25% Off Special.
Safest Tree Removal Methods
We always use the SAFEST tree removal methods for your property's safety, to ensure efficiency, and to promote safety! We strive to save every tree we can, but sometimes tree removal is necessary.
Expert Tree Service
We are a local family owned and operated tree service and tree care company in Wilmington, NC. We give you the promise of our hard work, dedication, and decades of expert experience.
Happiness Guaranteed
We provide professional and affordable tree care for our clients. We'd love the opportunity to work with you and show why our exceptional service sets us apart from the rest.
Tree Care Wilmington Tree Service
Tree pruning targets diseased, dying, and dead branches, removing them to improve the tree's health and appearance. Pruning a tree also gets rid of weak and broken branches – this improves safety. 
We prune all types of trees in Wilmington and the neighboring areas. Our team is made up of talented and passionate tree care providers. The team is professionally trained, has worked in the tree pruning field for decades, and is equipped with modern tree service tools – we ensure that every one of clients is 100% satisfied with our tree maintenance procedure.
Benefits of Working with Professionals When Pruning a Tree
1. Proficiency 
Pruning a tree requires a reasonable level of competence. Tree pruners need deep knowledge of the nature of trees. Since different trees respond differently to being cut, all trees cannot be pruned the same way. 
Cutting a tree during pruning is no different from injuring it – the cutting has to be done right to give the tree a better shot at healing. Tree pruning professionals have a high level of competence and are equipped with the right gear to ensure that the desired results are achieved. 
2. Improved Tree Health 
Tree pruning is one of the most effective ways of improving tree health. If you focus on pruning a tree early, you will be able to correct any signs of structural failure.
Working with professionals when pruning a tree gives you access to arborists who will remove any unnecessary or awkward growth that might affect your tree's future. The arborists will remove infected branches before the infections get a chance to spread to other parts of the tree. 
3. You Avoid Property Damage 
If you are pruning a tree alone, balancing between controlling where the branches fall and cutting the right branches may be impossible. The branches may end up on your roof, utility lines, or other crucial structures nearby. Repairing the resulting damages could force you to spend thousands. 
Working with professional tree pruners reduces the chances of property damage to zero. Expert tree service providers will have the branches tied with ropes while they are cutting them. The ropes will be used to bring these limbs down without touching your amenities.
4. You Avoid Injuries 
Climbing up a tree with sharp cutting tools is something you need to take seriously. A slight mistake could make you fall, causing significant injuries. While trying to balance between staying on the tree and cutting branches, you may end up cutting yourself with your tree pruning gear. 
Professionals have all the necessary safety gear for their protection. When they replace you on the trees that need pruning, the chances of injury reduce to zero. 
5. You Save Time 
Pruning a tree can take several hours. In the event you have several huge trees that need pruning, you could spend days working on them.
Working with professional tree pruners, however, will allow you to spend your time on other important activities. You can also rest assured that your trees are being taken care of by a team that guarantees maximum benefits.
DIY tree pruning can be a good money-saving decision if you have small trees in your home. To reduce the chances of tree damage, however, you will need to use the tips outlined below: 
Remove younger branches to reduce the chances of scarring. 

Branches with a diameter of below 5 cm are safe to remove. However, branches with diameters of 10+ cm should only be removed if they pose a safety risk or have an infection. 

Cut your branches between the ridge and the collar. 

Use a sharp tree pruning tool to avoid injuring your tree. 

When moving from one tree to the other, sanitize your cutting tool with rubbing alcohol.
Preventative Tree Pruning
Preventative pruning is used to improve safety. The pruning procedure focuses on removing branches threatening to fall. It also helps tree owners get rid of branches blocking pathways and driveways – this reduces the chances of accidents.